Randy Hammitt's 1973 Bohannon Maco Corvette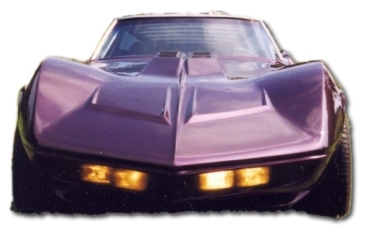 The purple one is a kit from John Bohannon. He is in Cookeville TN. I bought this car in Eclectic Alabama a couple of years ago for 5 grand. It had a 1981 corvette engine in it. It is automatic, ps/pb and Air. It is a 1973 model.
Pictures
Click on a picture to see the larger version.
Progress
I sold the engine and put the stroker, less the tunnel ram in it. I added a stall converter and a set of hooker side pipes ( done after the picture). I drove it around until this year when I decided that I couldnt stand that fugly purple paint any longer. I do my own paint and body, so I removed the 350, stripped the paint, and put it on jack stands in the garage. I have acquired a 502 engine. I dont want to give too much away, but lets just say it won't be stock! It is currently undergoing its transformation. I have removed and glassed over the door handles and locks. I will be using a remote window kit from Dakota Digital to gain entry to the car. I purchased it back in March. I am in the process of glassing over the side windows, man I hate those things! The right one is done, and the left one is roughed in. Also, if you look at the picture, you will notice that the rear flairs kinda curve back into the body at the rear at a weird angle. I am squaring them off to make the car look better. The right one is roughed in, and man, it looks great (to me anyway). This damn car had 8 paint jobs on it, so it was a nightmare stripping it. I got a set of moonroofs at carlisle. I am also switching to 17" wheels. I just have not decided on what style yet. I hope to have the purple car ( it will be a blue fade) done by warm weather next year. It should happen, if I can stay focused. Your website and all of the conversations with Harry and Tyla lately have kept the fire going. When I first got the car i wasn't sure about the rear spoiler, but now I love it!
Forum Info
Randy

2sharks

Want to talk about this car or ask questions?
All Content on this page is Copyright © 1997 - 2005 Randall Hammitt